So far I have read 65 books out of the 70 I need to read so my minimum is 5 this month.
The Underground Girls of Kabul by: Jenny Nordberg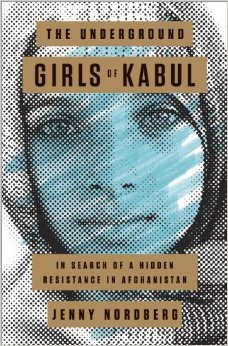 Goodreads Summary: An investigative journalist uncovers a hidden custom that will transform your understanding of what it means to grow up as a girl
In Afghanistan, a culture ruled almost entirely by men, the birth of a son is cause for celebration and the arrival of a daughter is often mourned as misfortune. A bacha posh (literally translated from Dari as "dressed up like a boy") is a third kind of child – a girl temporarily raised as a boy and presented as such to the outside world. Jenny Nordberg, the reporter who broke the story of this phenomenon for the New York Times, constructs a powerful and moving account of those secretly living on the other side of a deeply segregated society where women have almost no rights and little freedom.

The Underground Girls of Kabul is anchored by vivid characters who bring this remarkable story to life: Azita, a female parliamentarian who sees no other choice but to turn her fourth daughter Mehran into a boy; Zahra, the tomboy teenager who struggles with puberty and refuses her parents' attempts to turn her back into a girl; Shukria, now a married mother of three after living for twenty years as a man; and Nader, who prays with Shahed, the undercover female police officer, as they both remain in male disguise as adults.
At the heart of this emotional narrative is a new perspective on the extreme sacrifices of Afghan women and girls against the violent backdrop of America's longest war. Divided into four parts, the book follows those born as the unwanted sex in Afghanistan, but who live as the socially favored gender through childhood and puberty, only to later be forced into marriage and childbirth. The Underground Girls of Kabul charts their dramatic life cycles, while examining our own history and the parallels to subversive actions of people who live under oppression everywhere.
I'll Give you the Sun by: Jenny Nelson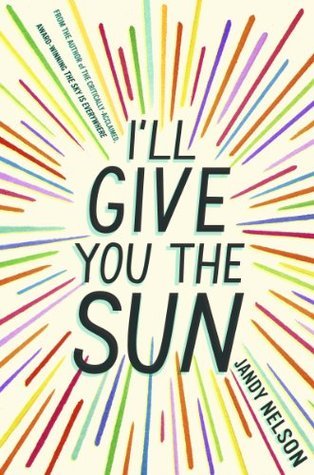 Goodreads Summary: A brilliant, luminous story of first love, family, loss, and betrayal for fans of John Green, David Levithan, and Rainbow Rowell
Jude and her twin brother, Noah, are incredibly close. At thirteen, isolated Noah draws constantly and is falling in love with the charismatic boy next door, while daredevil Jude cliff-dives and wears red-red lipstick and does the talking for both of them. But three years later, Jude and Noah are barely speaking. Something has happened to wreck the twins in different and dramatic ways . . . until Jude meets a cocky, broken, beautiful boy, as well as someone else—an even more unpredictable new force in her life. The early years are Noah's story to tell. The later years are Jude's. What the twins don't realize is that they each have only half the story, and if they could just find their way back to one another, they'd have a chance to remake their world.
This radiant novel from the acclaimed, award-winning author of The Sky Is Everywhere will leave you breathless and teary and laughing—often all at once.
Beneath by: Roland Smith
Goodreads Summary: What waits Beneath? Pat O'Toole has always idolized his older brother, Coop. He's even helped Coop with some of his crazier plans — such as risking his life to help his big brother dig a tunnel underneath their neighborhood in the suburbs of Washington, DC. Coop is . . . different. He doesn't talk on the phone, doesn't use email, and doesn't have friends. He's never really cared for anything but the thrill of being underground and Pat. So it's no surprise to anyone — even Pat — that after a huge fight with their parents, Coop runs away. Exactly one year later, Pat receives a package containing a digital voice recorder and a cryptic message from his brother. He follows the clues to New York City, and soon discovers that Coop has joined the Community, a self-sufficient society living beneath the streets. Now it's up to Pat to find his brother — and bring him home.
X by: Ilyasah Shabazz
Goodreads Summary: Cowritten by Malcolm X's daughter, this riveting and revealing novel follows the formative years of the man whose words and actions shook the world.
I am Malcolm.
I am my father's son. But to be my father's son means that they will always come for me.
They will always come for me, and I will always succumb.
Malcolm Little's parents have always told him that he can achieve anything, but from what he can tell, that's nothing but a pack of lies—after all, his father's been murdered, his mother's been taken away, and his dreams of becoming a lawyer have gotten him laughed out of school. There's no point in trying, he figures, and lured by the nightlife of Boston and New York, he escapes into a world of fancy suits, jazz, girls, and reefer.
But Malcolm's efforts to leave the past behind lead him into increasingly dangerous territory when what starts as some small-time hustling quickly spins out of control. Deep down, he knows that the freedom he's found is only an illusion—and that he can't run forever.
X follows Malcolm from his childhood to his imprisonment for theft at age twenty, when he found the faith that would lead him to forge a new path and command a voice that still resonates today
Undertow by: Michael Buckley
Goodreads Summary: Sixteen-year-old Lyric Walker's life is forever changed when she witnesses the arrival of 30,000 Alpha, a five-nation race of ocean-dwelling warriors, on her beach in Coney Island. The world's initial wonder and awe over the Alpha quickly turns ugly and paranoid and violent, and Lyric's small town transforms into a military zone with humans on one side and Alpha on the other. When Lyric is recruited to help the crown prince, a boy named Fathom, assimilate, she begins to fall for him. But their love is a dangerous one, and there are forces on both sides working to keep them apart. Only, what if the Alpha are not actually the enemy? What if they are in fact humanity's only hope of survival? Because the real enemy is coming. And it's more terrifying than anything the world has ever seen.
Action, suspense, and romance whirlpool dangerously in this cinematic saga, a blend of District 9 and The Outsiders.
Goodreads: https://www.goodreads.com/user/show/39171265-sabrina-marsi
Twitter: https://twitter.com/sabrina_marsi
Email: sabrinamarsi10@gmail.com
~Hope you enjoyed this and i'll have another post up soon. Take Care!